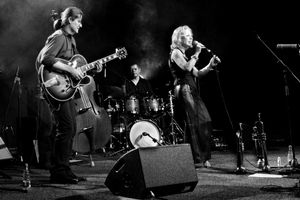 "

......One seldom equates Austria with having any significant jazz talent, outside of Joe Zawinul, but Moods, by Michaela Rabitsch and Robert Pawlik, proves conclusively that jazz lives on in Austria. "
— John M. Peters, Music Watch #11
Michaela Rabitsch & Robert Pawlik Quartet
Michaela Rabitsch, singer, composer and Austria's only female top jazz trumpet player is called a modern day female Chet Baker by the US magazine Jazzscene. Michaela and her ingenious partner, composer and incredible fluid guitarist Robert Pawlik present "Gimme The Groove ",  their 6th common studio release and celebrate their jubilee 20 years together on the road. 
The tunes root on the one hand in the melodic stiles of the Jazz tradition, like Hardbop, Swing, Modern Jazz, New Orleans Second Line and Blues, and, on the other hand, form fusions with elements of Indian, African or Latin American music. 
Their songs are inspired by their numerous tours of the last years through Europe, Asia, the Americas and Africa, with 1500 concerts in almost 50 countries, playing in intimate Jazz clubs as well as on big stages and at international festivals – from Tokyo to Teheran, Kuala Lumpur to Yerevan, Cape Town to Delhi, Shanghai to Almaty, Hong Kong to Cracow, Havana to Moscow, Chicago to Ottawa, Penang Island to Ankara … 
Vienna's "first couple of Jazz" presents a diversified and sophisticated musical experience extraordinaire, with their signature sound of Jazz spiced up with a touch of World! 
From Austria they come and this trumpet/guitar led crew just might conquer the world with their sound. (Chris Spector, Midwest Record Recap, USA)